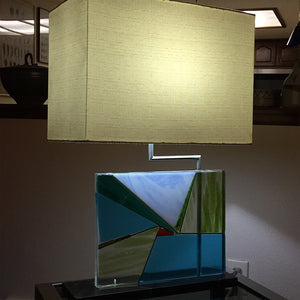 Lamp Enhancement
Contact Us for Bid

Custom-made lamp base cover plate: Request a Custom Order.

Opalescent and transparent glass panels attached to an existing lamp base. We can make a special set of glass plates or inserts to enhance the look of any lamp.

Many colors are available. Colors shown are Kelly green, light  blue and turquoise.
Dimensions:
Glass shown - Approx 10" high x 13" wide. Custom sizes up to 18" in width and length are possible. Call us to discuss.
Each panel will be carefully wrapped, boxed, and insured when shipped to ensure it safely arrives to your home or other location.
Custom orders are always welcome. We would love to help with your special request. Various colors and sizes are available. Please allow 3-4 weeks for your custom order to be completed.
Request a Custom Order Typical price for each panel ranges from $75 - $175 each.